A good night's sleep helps improve practically every aspect of your life, from your mood to your health and more. One of the most significant factors in maintaining healthy sleep hygiene is choosing the best mattress Australia for your specific needs.
What is the best mattress in Australia for you? It should provide an appropriate level of firmness and support by keeping your body properly aligned all night long, helping prevent sore muscles while keeping you comfortably cool.
Finding the best mattress Australia can seem like a daunting challenge. Many different materials and features are available, and they all have pros as well as potential drawbacks. You want to make sure the mattress you choose will deliver the specific benefits you want.
Fortunately, you can rest easy, because we've done the research for you. Our qualified team of sleep specialists has selected the best mattresses in Australia for 2022. Plus, we've included a complete guide with everything you need to know, so you don't have to lose sleep wondering what to look for.
Best Mattress Australia – Top 10
Do you need a new mattress right now, and don't have time to read through the best bed reviews for Australia in their entirety? Here's a quick look at our top picks:
Do you want to learn more? Here is what we've got for you!
The Best Beds: Australian Mattress Reviews for 2022
We've pulled more than a few all-nighters to compare many, many mattresses to find the best mattresses in Australia. Our team of sleep experts considered multiple factors, including how they're made, what specific health benefits they have, their sleeping-style suitability, and more.
Some mattresses from our mattress reviews in Australia for 2019 have found their way back to our reviews of the best mattresses in Australia for 2020, and our mattress reviews in Australia for 2022. In each case, we've based our mattress reviews on each brand's 2022 model, making sure to note any changes from previous years.
Plus, no two sleepers are alike, and there's no one best bed for everybody. We've not only listed several general-purpose beds, but we've also listed more specialised options, such as mattresses to help alleviate pain, keep you cool, and reduce the presence of allergens.
Noa's Luxe mattress is the company's top mattress. It features several foam layers plus five zones of pocket springs and a layer of cooling gel. Far firmer than most hybrid mattresses, it provides targeted support for your shoulders, waist, and lower back.
Comfort, Support and Design
The mattress is 31 cm thick with eight distinct layers that bring together coils, open-cell latex, and other technologies.
Its core consists of five ergonomic zones of pocket springs. Each steel spring is individually encased in mesh, so they stay separate from one another, allowing for full-body support. The design specifically targets your lower back and waist to help keep your spine correctly aligned.
Additionally, a top layer of hand-tufted Tencel pillow top, a layer of cooling gel memory foam, and a layer of bamboo charcoal latex all work together to help keep the surface of the mattress cool and comfortable.
In the middle of the mattress, you'll find Noa's unique micro-coils. They expand and contract according to your body weight, helping to create custom comfort.
On Noa's 10-point firmness scale, where one is the softest and ten the firmest, the Luxe rates a seven or eight. It has the firmness associated with innerspring mattresses. However, the layers of latex and memory gel provide sinkable comfort. Overall, it's one of the best firm mattresses in Australia.
Purchase and Delivery
The mattress is shipped directly from the manufacturer. Shipping is free, but the amount of time varies based on your location. It's one of the best mattresses for Melbourne or Sydney delivery. Residents in those metro areas should expect delivery within one to three days. Other Australian residents should expect shipping to take between five and 15 days.
Once your mattress arrives, you have a 100-night trial period to decide if you want to keep it. If you decide it's not for you, Noa will issue you a full refund. They'll even cover return shipping costs.
Available Sizes
The mattress is available in five sizes:
Single – 92 by 188 by 31 cm
King Single – 107 by 203 by 31 cm
Double – 138 by 188 by 31 cm
Queen – 153 by 203 by 31 cm
King – 183 by 203 by 31 cm
Final Verdict
Overall, the Noa Luxe is a well-made, comfortable hybrid with unexpected but welcome firmness. It stays much cooler than most all-foam or latex mattresses and also provides targeted support to your hips and shoulders, making it well-suited for all sleeping positions.
If you've ever had a great night's sleep on an Ecosa mattress, then you already know what to expect here. This Ecosa Mattress is the same type found in many homes across the country, and the best hotel-quality mattress in Australia for home use.
Comfort, Support and Design
The mattress has five zones of pocketed springs which provide contoured support. A layer of high-density foam sits on top of the springs to add extra comfort. All foam is GECA certified with efficient temperature regulation capabilities.
It's about a six on a 10-point firmness scale (with ten the firmest). A medium-soft mattress in this range is suitable for a wide variety of sleepers, including side and back sleepers, although it might be a bit too soft for stomach sleepers.
Purchase and Delivery
Ecosa will ship the mattress to anyone in Australia. You should expect your bed to arrive within four to six weeks after ordering. Unfortunately, if you live more than 50 km outside of the Melbourne city centre, you might need to pay extra shipping costs.
Available Sizes
Two sizes are available:
Queen – 153 cm wide by 203 cm long by 33 cm deep
King – 183 cm wide by 203 cm long by 33 cm deep
Final Verdict
Enjoy the comforts of a luxury hotel at home with this medium-firm mattress from Crown Hotels. It provides excellent spinal support for both side and back sleepers. Plus, it's durable and well-made with EdgeBoost edge support and impressive motion isolation.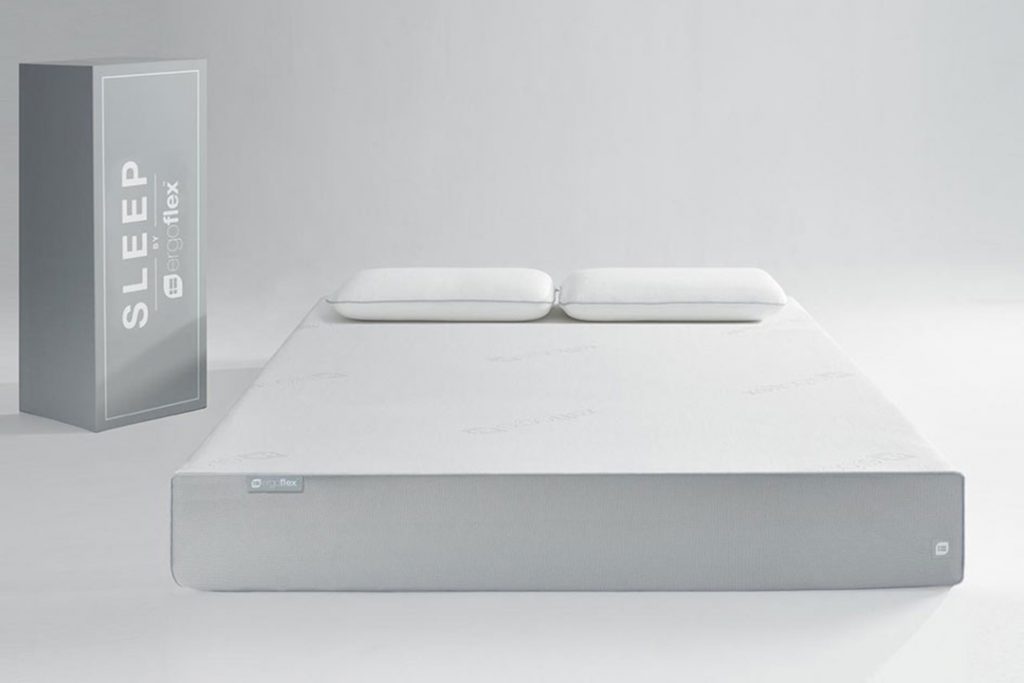 As a "bed in a box" pioneer, Ergoflex continues to lead with their all-foam mattresses. Although originally designed in 2006, their 5G was considered one of the best mattresses in Australia for 2019 and 2020 — and it's high on our list of the best mattresses in Australia today.
Comfort, Support, and Design
The Ergoflex 5G is a proper memory foam mattress with five layers including nine centimetres of Visco-Elastic memory foam, another nine centimetres of a high-resilience foam base, and a five-centimetre Cool-Sleep layer to improve airflow.
A warm sleeping surface is a common problem with memory foam mattresses, but you won't find any significant issue here. The 5G is constructed from top to bottom with temperature regulation in mind. The Cool-Sleep layer, along with the open cell construction, helps regulate internal temps while the vented Tencel mesh covering helps prevent the surface from retaining heat.
Purchase and Delivery
They offer next-day delivery for most customers near major metropolitan areas. Additionally, you can schedule a delivery date, including weekends and after-hours, although customising the delivery does cost extra.
After delivery, you have 30 days to try out your mattress at home. As we'll discuss below, that's the minimum recommended time for adjusting to a new mattress, so you'll want to use as much of it as possible. In addition to the 30-day trial period, the mattress also includes a 10-year warranty against manufacturing defects.
Available Sizes
Six sizes are available:
Single – 92 cm by 187 cm by 23 cm
Long Single – 92 cm by 203 cm by 23 cm
King Single – 106 cm by 203 cm by 23 cm
Double – 137 cm by 187 cm by 23 cm
Queen – 152 cm by 203 cm by 23 cm
King – 183 cm by 203 cm by 23 cm
Final Verdict
While so many hybrid options, it's easy to overlook the advantages of all-foam. Ergoflex's 5G delivers deep comfort with precise body contouring along with open construction that helps increase airflow. It's an ideal choice for hot sleepers and anyone who enjoys the feeling of sleeping "in" the mattress rather than on top of it.
Koala Mattress – Best Made in Australia Mattress
While our list is filled with the best mattresses in Australia, the Koala brand is our choice for the Most Australian. Not only are most of the materials sourced here at home, but the company donates 1% of its revenue to koala preservation charities.
Comfort, Support and Design
Koala has developed its own type of open-cell foam, the comfortable and breathable Kloudcell. Underneath the Kloudcell layer is a supportive layer of Ecofoam. Together, they provide spinal support along with a comfortable sinking sensation.
The Koalacell doesn't feel exactly the same as traditional memory foam. It has more of a bounce along with improved breathability. Also, it's cooler than a typical all-foam mattress.
While ideal for lightweight sleepers, you might sink too deep into the top layer if you're heavier.
Purchase and Delivery
Koala's delivery stands out from the competition. If you live near Sydney, Melbourne, Brisbane, Perth, or Adelaide, most mattresses can arrive on the same day you order, sometimes within four hours. Outside of those areas, delivery can take up to 10 days.
Once you get the mattress, you have a 120-night trial to sleep on it. Most experts agree that it takes 30 nights for your body to adjust to a new mattress. With a trial period three times longer, you have plenty of opportunities to decide if it's the right choice for you.
Available Sizes
The Koala mattress is available in five sizes:
Single – 198 cm long by 92 cm wide by 23 cm high
King Single – 203 cm by 107 cd by 23 cm
Double – 188 cm by 138 by 23 cm
Queen – 203 cm by 153 cm by 23 cm
King – 203 cm by 183 cm by 23 cm
Final Verdict
The unique Kloudcell construction makes this medium-firm mattress a comfy choice for side, back, and front sleepers. It's one of the best mattress brands in Australia, and our pick for the best Australian mattress.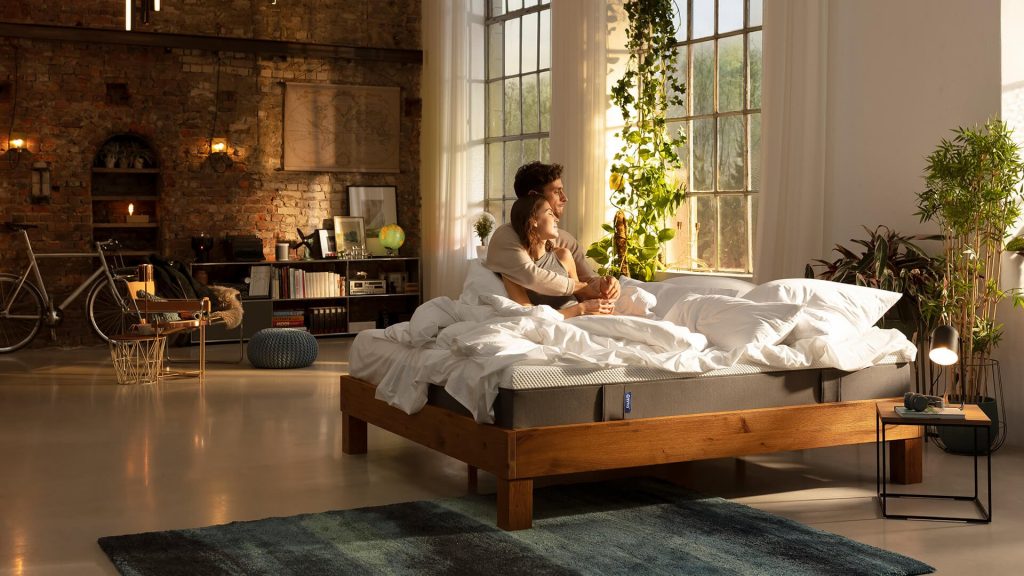 Emma's Original Mattress is one of the best beds in Australia for general purpose use. Sleepers, including couples, will find a solid combination of movement control, cool temperatures, and pressure-relieving foam.
If this mattress was a person, it'd be Fonzie, because it keeps its cool well, especially considering it's an all-foam mattress. The top layer of foam is breathable and pulls both moisture and heat away from your body.
Comfort, Support and Design
It's an all-foam mattress with a layer of breathable foam atop a seven-layer base of high-resilience foam. Point-elastic holes in the foam create counter-pressure, providing direct support to your lower back.
Plus, it has some of the best motion management on the market. If you sleep with a partner who seemingly can't stay still, this mattress will let you enjoy a sound sleep.
Purchase and Delivery
Delivery is free. You should expect your mattress to arrive between one and seven days.
Emma gives you a 100-night trial, so you get plenty of time to adjust, making this a good option if you've never slept on a memory foam mattress before and aren't sure what to expect.
Additionally, the mattress is covered by a 10-year warranty against any defects.
Available Sizes
The Emma Original is available in six sizes:
Single – 188 cm by 92 cm by 25 cm
Double – 188 cm by 138 cm by 25 cm
King Single – 203 cm by 107 cm by 25 cm
Queen – 203 cm by 153 cm by 25 cm
King – 203 cm by 183 cm by 25 cm
Super King – 203 cm by 203 cm by 25 cm
Final Verdict
Are you interested in foam mattresses but not sure what they're like? The Emma Original is an all-foam mattress that's great for all-around use by practically all sleepers. With a 100-night trial, you can try it with no financial risk.
You won't find any other mattress quite like the Mach II from Sleeping Duck. It combines four unique systems, based on aerospace engineering, to create a comfortable and supportive mattress with an unparalleled level of customisation.
Mach II is the best mattress brand in Australia if you're looking for designs you can't find anywhere else.
Comfort, Support and Design
The base layer is called the Motherboard. It's a multi-zoned system consisting of independent steel springs and reinforced perimeter support. On top of the Motherboard are the ComponentAdapt and Antigravity layers. They're made from high-density AirGrown polyurethane foam. Finally, the BreatheTech top cover is made from vortex-spun bamboo.
The layers are customisable. You can choose between four different levels of firmness: Soft, medium, firm, and extra-firm. Each side has its own pad, allowing two people to sleep at different firmness levels.
It's customisation options turn it into two beds in one, making it one of the best value mattresses in Australia.
Purchase and Delivery
Sleeping Duck offers free shipping to most of Australia. Once it arrives, you have a 100-night trial.
The trial is far more interactive than most. During the 100 nights, you can switch out layers to customise the firmness level of each side of the mattress. Sending and receiving new layers in the mail is entirely free during the trial period. Take advantage of the entire trial to customise your mattress to your satisfaction, because adjusting layers after the trial is over results in a fee.
Available Sizes
Single – 188 cm by 92 cm by 31 cm (30kg)
King Single – 203 cm by 107 cm by 31 cm (36 kg)
Double – 188 cm by 138 cm by 31 cm (43 kg)
Queen – 203 cm by 153 cm by 31 cm (52 kg)
King – 203 cm by 183 cm by 31 cm (65 kg)
Final Verdict
The four unique layers of the Mach II provide the comfort of memory foam with increased support and heat dispersal. Plus, they're the most adjustable option, making them ideal if you and your partner prefer different layers of firmness.
This medium-firm hybrid mattress would make Goldilocks proud! It's designed for "just perfect" comfort suitable for all sleeping styles and all people sizes.
Comfort, Support and Design
This mattress is a true hybrid, with a full layer of memory foam on top of a base level consisting of 720 individually-pocketed springs. Overall, the mattress has a medium level of firmness with additional firmness in the centre lumbar zone, which lifts your lower back to keep your spine in a comfortable position.
It's rated at a seven out of 10 for firmness, making it suitable for side and back sleepers, including hot sleepers. It's also firm enough for many front sleepers, although some may find it slightly too soft.
Purchase and Delivery
After ordering, a Sherman customer service rep will contact you to arrange a delivery time. They typically deliver within five days to major suburbs to Adelaide, Brisbane, Sydney, Melbourne, and Canberra. Additionally, they also have regional delivery centres along the East coast, including Hervey Bay and Jervis Bay.
Sherman is one of the best mattress brands for delivery, with a White Glove service that helps them stand out from the competition. Instead of unboxing the mattress and setting it up yourself, the Sherman team will arrive at your house and set up your new mattress inside. It's ready to sleep on the first night it arrives.
You also get a 100-night trial. If you're not satisfied, they'll return to pick up the mattress and give you a full refund.
Available Sizes
You can choose from five size options:
Single – 92 cm by 188 cm by 32 cm (20 kg)
King Single – 107 cm by 203 cm by 32 cm (22 kg)
Double size – 138 cm by 188 cm by 32 cm (30 kg)
Queen size – 152 cm by 203 cm by 32 cm (35 kg)
King size – 183 cm by 203 cm by 32 cm (42 kg)
Final Verdict
The Sherman Just Perfect combines benefits of both spring and foam mattresses to create a mattress that's well-suited for a broad range of sleeping preferences and needs. Plus, their delivery process and long trial period make it safe and easy to try before you buy.
The Eva Mattress – Best for Warm Sleepers / Climates
If you're looking for a mattress with robust air circulation and effective heat dispersion, you don't always have to choose an innerspring. The Eva Mattress keeps its cool while still delivering the sinking-in comfort of three layers of foam.
Comfort, Support and Design
Five zones of individually pocketed springs, supported by side-springs along the edge, comprise the bed's base. Three foam layers fit on top of the springs: a firm layer of density foam, a hypoallergenic latex layer, and a top cooling layer of gel memory foam.
The gel foam helps pull heat away from your body, while the other two layers of foam have an open-cell design that allows for robust and consistent airflow.
Purchase and Delivery
Delivery is free. If you live near a large metropolitan area, you can expect your mattress to arrive within 24 hours.
After delivery, Eva gives you 100 nights to return the mattress for a full refund. A 12-year warranty also covers the bed against manufacturing defects.
Available Sizes
You can choose between five mattress sizes:
Single – 188 cm by 92 cm by 32 cm
King Single – 203 cm by 107 cm by 32 cm
Double – 188 cm by 138 cm by 32 cm
Queen – 203 cm by 153 cm by 32 cm
King – 203 cm by 183 cm by 32 cm
Final Verdict
Whether you live somewhere with warm temps, or you're a warm sleeper in any climate, the Eva Mattress can help you stay comfortably cool. Not only is it one of the coolest hybrid mattresses available, but its temperature regulation abilities rival top-quality innerspring.
EcoKids – Best for Kids
Kids benefit from a great bed just as much as adults. Help them stay healthy and happy as they grow with the EcoKids mattress, a kid-friendly mattress that's supportive, comfortable, and hypoallergenic.
Comfort, Support, and Design
The mattress has a natural bamboo fabric covering a layer of HygroFlex foam. It's a durable and resilient foam made using an environmentally-friendly process called Variable Pressure Foaming Technology (VPF).
Underneath the HygroFlex layer is a second layer of HD Dunlop Enduro Support foam. It provides a medium level of support ideal for growing bodies. Also, it's approved by the National Asthma Council's Sensitive Choice program as safe for use by kids with allergies, asthma, and other breathing issues.
Purchase and Delivery
Delivery takes about three to five days within the Melbourne metro area, or up to two weeks elsewhere in the country. However, no matter where you live in Australia, delivery is free.
All customers get a 100-night trial. If you decide you don't want to keep the mattress, return shipping is free if you live in Melbourne, Sydney, Canberra, Brisbane, Adelaide, and Perth. Residents outside of those areas have to pay for shipping themselves.
Available Sizes:
The EcoKids mattress is available in four different sizes to accommodate kids from young ages through the teenage years.
Single – 188 cm by 92 cm by 21 cm
Long Single- 203 cm by 92 cm by 21 cm
King Single – 203 cm by 107 cm by 21 cm
Double – 188 cm by 138 cm by 21 cm
Many manufacturers focus on larger sizes, such as Queens and Kings. However, EcoKids excels at these smaller sizes, making them one of the best King Single mattress manufacturers in Australia.
Final Verdict
A foam mattress helps promote proper spinal alignment and healthy growth. With unique sizes, increased durability, and hypoallergenic construction, the EcoKids mattress has multiple features both you and your kids will love.
If you're looking for an all-natural and environmentally-friendly option, you can feel good about purchasing the Peacelily. It's made with 100% natural latex rubber and 100% organic cotton with no toxins or polyurethane foams.
Comfort, Support, and Design
The latex used is made from 100% natural Dunlap latex from sustainable sources, and certified organic by the eco-INSTITUT and Oeko-Tex, two leading emission monitoring organisations. Not only is production environmentally friendly, but the resulting latex is strong, comfortable, and has no off-gassing.
Additionally, it's three mattresses in one. You can flip it to switch between medium and firm or add a plush mattress topper with a 5 cm layer of 100% latex rubber foam for a soft, luxury feel.
Purchase and Delivery
Basic shipping is free, but additional charges incur based on any regional fees. Depending on where you live, the mattress should arrive within one to 11 business days. If you live in Melbourne, Sydney, or Canberra, delivery should take only a few days. However, residents of Hobart, Perth, and Darwin might need to wait up to a week.
You have a 100 night trial period. Note they only refund your money after they've received the mattress and if it's free from tears, stains, and other damage.
Available Sizes
This all-natural option is available in five sizes:
Single – 92 cm by 188 cm by 22 cm
Long Single – 92 cm by 203 cm by 22 cm
King Single – 107 cm by 203 cm by 22 cm
Double – 138 cm by 188 cm by 22 cm
Queen – 153 cm by 203 cm by 22 cm
King – 183 cm by 203 cm by 22 cm
Final Verdict
Whether you have allergies, or just prefer an all-natural and environmentally-friendly option, the Peacelily latex foam mattress is a bed you're sure to love. It's also a top recommendation if you want the ability to quickly change the firmness without buying new components.
2022 Guide to the Best Australian Mattresses
Now that you've read our best mattress reviews for Australia, here's what you need to know about finding the top mattress for your needs.
Types of Mattresses
How a mattress is made, and what it's made from, are both important, and usually inter-related, features to consider when comparing top mattresses. Here's a look at the top types:
Innerspring
This is the traditional, old-school type. It uses hundreds or even thousands of individually-pocketed coils. Individually-pocketed basically means the coils are kept separate from one another, which helps provide targeted support for your body.
Benefits
Also called spring or coil mattresses, it's easy to feel why they've remained an enduring classic. They provide comfortable cushion and support for practically all body types and sleep positions.
Plus, they're typically the best option if you want a cool night's sleep. The interior design allows for efficient air circulation, helping diffuse heat while keeping surface temps low. Consider an innerspring mattress if you live in a warm climate or you're a warm sleeper.
Potential Downsides
This traditional type of mattress does have a few downsides. It's heavy and not particularly portable. They're a consistent source of frustration on practically any moving day.
Shipping poses some logistical issues. Unlike other types, innerspring mattresses don't compress down into a smaller size. They must be shipped and moved at their full size, which can be significant if you buy a queen, king, or anything larger.
Also, innerspring mattresses often aren't as durable as other types. Over time, they can wear down, and support can become uneven. You'll need to flip them regularly to avoid creating permanent indentations.
Finally, they're typically not great at isolating motion. If you sleep with a partner (or pet) who tosses and turns throughout the night, you'll likely feel most of that movement as well.
Memory Foam
Memory foam is another popular option. It's a soft, malleable cushion made mainly from polyurethane, which is also referred to as viscoelastic or low-resilience foam. The foam is typically arranged in layers of different types and densities.
A memory foam mattress contours to your body. Instead of feeling like you're sleeping on top of the mattress, you'll feel more like you're sleeping in it.
Benefits
Memory foam well-suited for use in a mattress for several reasons:
It's pliable but supportive.
It isolates motion well.
It compresses well.
Memory foam reacts to your body heat and weight. It moulds to your exact shape, which provides precise support for any sleeping style, even when shifting positions throughout the night. An all-foam mattress creates an enveloping softness that many people find far more comfortable than what springs can provide.
Another noteworthy feature of memory foam is how well it contains motion, due to the lack of interior coils. Your partner can move around frequently and even wildly, but you won't feel any disruption. The ability to contain motion also makes getting into and out of bed easier, especially for anyone with mobility issues.
Lastly, memory foam is much easier to ship than an innerspring mattress. During the manufacturing process, they're condensed down significantly. While a memory foam mattress isn't the only type shipped in a box, it definitely helped popularise the term "bed in a box," which is still often used as a synonym. You can order these mattresses online and set them up yourself, avoiding the hassle of delivery people or the struggle of moving a spring mattress.
Potential Downsides
There are a few potential drawbacks. Memory foam mattresses require a decompression period. You'll need a well-ventilated area to place your mattress because decompression involves a chemical process called off-gassing which releases a paint-like smell. It's not harmful, but it's usually strong, so you'll want to keep the mattress away from any living areas for the first few days.
Also, surface temps can run high with a memory foam mattress. Compared to an innerspring mattress, foam mattresses have a less open interior, which restricts airflow. However, good mattress brands in Australia have significantly improved foam cooling technology in recent years.
Memory foam with foam bubbles arranged in what's called a matrix of cells has a structure that's fairly conducive to consistent airflow, although it still probably won't be as cool as the best innerspring.
Finally, memory foam mattresses aren't quite as firm as innerspring. Fortunately, like with heat dispersion, foam technology is catching up here, too. Newer foam mattresses incorporate denser foam pads, increasing the firmness and overall longevity. Still, if you want the firmest option, that's likely a firm innerspring.
Latex
Latex mattresses offer cushioned support similar to foam but with a few key differences. They're made from the sap of the rubber tree, making them the all-natural sleeping option.
Benefits
Latex eliminates many of the issues people have with foam. Most notably, latex mattresses are often recommended for anyone with allergies. The latex is naturally resistant to dust mites, mould, and many other common bedroom allergens.
Also, latex doesn't smell bad. The strong, sometimes pungent, chemical-like smell is one of the most common complaints people have about foam mattresses. However, latex mattresses have a subtle, semi-sweet odour that many people compare to vanilla. If you're sensitive to strong smells, or you've had a bad experience with foam mattress odours in the past, latex can provide welcome relief for your nose.
Additionally, latex is naturally fire-resistant. While you still want to take adequate precautions to keep any potential fire hazards away from your mattress, its natural resistance does add an extra layer of protection.
Finally, latex offers a buoyant softness. It provides targeted support to your pressure points to help relieve muscle and joint pain. Like with the foam type, latex mattresses also have an open-cell structure that allows for cooling airflow.
Potential Downsides
In a somewhat ironic twist, while latex mattresses naturally resist allergens, it's possible to develop an allergy to latex itself. Even if you're not currently allergic to latex, repeated exposure to it can result in an allergic reaction, typically characterised by a red, itchy rash.
Another potential issue is that latex is heavier than foam. While they can still compress down for shipping purposes, a latex mattress is generally more difficult and awkward to move around. If you want maximum mobility, foam is superior to both latex and springs.
Latex can also get hot. Despite the open-cell structure, latex can still develop hot spots if you remain motionless for a long time. Fortunately, this is mainly an issue with lower-quality latex mattresses, as higher-end brands typically include features to help improve heat dispersal across the surface.
Finally, expect to pay more for a latex mattress than a foam one of the same size. The extra features and unique construction increase the cost. On the plus side, a well-made latex mattress typically lasts between 10 to 12 years, making them an excellent value.
Hybrid
Hybrid mattresses combine elements from foam, latex, and spring mattresses. Practically any type of combination is possible, although memory foam and springs are the most common.
Benefits
By selecting the best features of each type, manufacturers can create what's called a "super mattress." For example, a mattress with a layer of memory foam supported by an innerspring base provides targeted pressure relief plus increased interior airflow.
You'll find many hybrids that feature a thin layer of memory foam. Don't confuse thinness with ineffectiveness. With a hybrid mattress, a foam layer of just 10 cm provides the desired level of support without being thick enough to interfere with the increased airflow from the springs.
Potential Downsides
The biggest drawback with a hybrid mattress is the cost. As you might expect from something often referred to as a "super mattress," the price tag typically exceeds that of foam or spring. While you can find foam mattresses in the low to mid-hundreds, expect to pay from the mid-hundreds to over $1,000 for a hybrid.
Another potential issue is portability. If the mattress has a spring base, compression isn't possible, so it'll have to be shipped and otherwise moved at its full size.
Factors to Consider when Buying a Mattress
When searching for the best bed mattresses in Australia, you'll need to consider various factors, which apply to all the types (spring, foam, etc.). Here are the key elements that affect its comfort and overall suitability for your bedroom.
Size
Mattresses are typically divided into five general categories, although some manufacturers might add a few extras. While each size is generally the same across manufacturers, there can be some differences, so be sure to check brand specifics.
Here's a rundown of what size is typically best for who:
Single– Best for kids, bunk beds, and shorter adult single sleepers
King Single – Longer than a regular twin, a King Single is commonly found in college dorms.
Double – The smallest mattress size suitable for two
Queen – As the most popular option, it provides comfortable space for two.
King – Couples each get roughly the same amount of space as a single bed
Bigger isn't always necessarily better! Determine the best size for your bed by looking at the following factors:
Room Size
Sleeping Partners
Personal Height
Budget
Don't let the mattress dominate the room. Make sure you can still move around comfortably. As a general rule, leave about two feet of space around the bed's sides and end. That should allow enough room for most night and end tables.
Also, consider the sleeping preferences of yourself and your partner. Some couples prefer cuddling all night long, while others want more space. With a Queen, you and your partner will likely brush up against one another whether you want to or not. However, a King typically allows most couples to sleep without touching unless they want to.
Next, take your height into account. A Queen or King is typically a comfy fit for anyone 196 cm and under. If you're taller, you might want a Super King, which is offered by some manufacturers.
Finally, you can't ignore your budget. Larger beds cost more, so you'll need to strike a balance between size, type, and features. For example, a Queen hybrid might cost less than a foam King, so you could drop down a size for a more comfortable experience overall.
Firmness
Mattress firmness is typically rated on a 10-point scale, where 10 is the firmest, and one is the softest. Unfortunately, comparing mattress firmness can be difficult, because the scale is subjective to each manufacturer. For example, what one brand considers a six another might say is a seven.
Generally, five is considered medium, six is medium-firm, and firm mattresses start at seven. If you want a firm mattress, an eight is usually a good number to try first, as nines and tens can feel pretty stiff.
Making the issue a bit more confusing, some manufacturers create their own systems. For instance, the Sherman Mattress has three options: Firm but Fair, Just Perfect, and Full Body Hug. While those terms give you a general idea of the difference within the brand, they don't directly compare to other mattresses.
How to Check the Firmness
Fortunately, you have two options to test firmness before you buy. You can shop in-person and test it out in the store. While that gives you a general idea, the better option is to order it online from a company that offers an in-home trial.
Generally, you should sleep on a mattress for at least 30 nights to determine its long-term comfort. Your body needs time to adjust to the mattress. For example, switching to a firmer mattress than you're used to can leave you feeling slightly sore in the morning for a few weeks, even if it results in less pain in the long term. Additionally, your mattress needs time to adjust to your body, especially foam and latex, which need a few days to decompress fully.
Many mattresses offer adjustable firmness. Certain memory foam and latex options allow you to access the interior and replace thin panels of varying firmness levels. Another popular way to adjust firmness is via a number system, where you "dial in" the desired firmness.
Edge Support
While the comfort of the main part of the mattress is important, don't overlook the edges, even if you don't sleep there. The strength of the mattress edge affects how easily you can get in and out of bed. It also increases durability, as the corners are the most likely part to get damaged, especially when moving the mattress.
Look for any type of reinforcement, such as increased padding, stronger structural support, or double stitching. If you want the most edge support, look for a bed that uses side springs. It's a system with a separate set of small springs placed around the edge of the bed, to provide extra stability.
Breathability
Breathability describes the ability of air to flow through the mattress. Consistent airflow helps keep the mattress cool. Mattresses use a variety of different methods to increase breathability.
Generally, innerspring and hybrid mattresses stay the coolest. Their design allows for a more open interior than foam. Air can pass through the coils, helping keep both the interior and the surface of the mattress cool, even in hot climates.
Additionally, note the contouring of the mattress. Contouring is the way a mattress hugs your body, and while it's comfortable, such a close connection can also trap heat. An innerspring, which provides less contouring, creates space for heat to pull away from your body, helping to keep you cool.
That's not to say a memory foam mattress can't be cool. Look for open-cell foam, which is lighter weight, a hexagonal shape that allows for increased airflow. Also, some foam mattresses have a top, thin layer of cooling gel, which further cools the surface.
Motion Isolation
How well does the mattress prevent motion transfer? The best mattresses localise movement, preventing it from reverberating across the entire surface. It increased comfort whether you're sleeping solo or with someone because the mattress doesn't jostle underneath you.
Foam and latex provide the best motion isolation, especially thick, high-density foam. You won't feel any person or pet get in or out of bed, or move around at night. The highest quality foam mattresses can be quite amazing – your partner can stand up and jump on the bed, and you won't feel a thing!
Innerspring mattresses can be hit or miss. If you want the best movement deadening, choose innerspring with pocket or offset coils. Keeping each coil contained helps prevent energy from moving from coil to coil. Watch out for lower quality innerspring. They often provide the worst isolation, allowing you to feel your partner's every toss and turn.
Odour
Many memory foam mattresses emit a smell — but don't worry, it's typically only for a short time. Foam mattresses compress down to fit into air-tight containers during the manufacturing process, which allows for easy shipping. Once they arrive, opening the box allows the mattress to decompress.
Polyurethane foam undergoes a chemical process called off-gassing, which is when volatile organic compounds break down into gaseous form. During the compression process, these gases can build up, and decompressing the mattress releases them.
Off-gassing has a chemical smell that many people find similar to a freshly-painted room. Each brand uses a different blend of polyurethane, flame retardants, waterproof coatings, and more, meaning the smell will vary slightly across brands.
Expect the odour to last anywhere from a few hours to a few days. Sleeping on the off-gassing mattress isn't particularly pleasant, which is why many people end up letting it decompress somewhere besides the bedroom. Opening them outdoors in a sheltered area is ideal, but otherwise, you can use a well-ventilated room.
The odour doesn't indicate anything toxic or unsafe. With a high-quality mattress, it should dissipate completely within a week at the most. Some lower-quality ones might have a subtle smell for longer.
Sleep Trials
Many people feel wary about buying a mattress online because you can't touch it before buying it. Fortunately, all major online mattress companies in Australia understand this, which is why they offer sleeping trials.
A sleeping trial is a period where you can return the mattress for a complete refund. It allows your body time to adjust to the new mattress. Additionally, it allows you to make sure the size is the perfect fit for your bedroom.
Most sleep experts say it takes about 30 days for your body to adjust to a new bed, so you want a trial period of at least a month. Some Australian mattress makers offer far more, including trials that last an entire year.
Warranty
Another important aspect of protecting your purchase is the warranty. Typically, an Australian mattress warranty will cover any type of manufacturing defects, such as a structural problem, bad stitching, or something similar.
Read through the warranty carefully, as they don't always cover issues you think they might, such as foam indentations. Also, they won't cover anything related to your personal preferences, such as firmness or size. However, they can still provide peace of mind beyond the trial period if any major problem occurs.
The lifespan of a quality mattress is roughly a decade, so it's not uncommon to find warranties that extend for ten years or more.
How Your Sleep Position Affects the Mattress You Should Buy
How do you like to sleep? Even if you frequently toss and turn, most people spend the majority of the night sleeping (or trying to sleep) in one of three positions:
Your sleep position, bed type, and pillow use all work together to create what's called your bed posture. Considering that we spend roughly a third of our life asleep, your bed posture has a profound effect on your muscles, joints, and overall feelings of well-being.
Sleeping on your back produces the least amount of pressure on your body. If you sleep on your back, place a small pillow underneath your knees. Doing so helps reduce the stress placed on your spine. Of course, you'll also want a pillow for your head, which helps support your neck and shoulders' natural curve.
Side sleeping creates a bit more pressure on your body than sleeping on your back, but it's still relatively low-stress. Just make sure you place a pillow between your knees. It helps reduce stress on your hips and lower back while also promoting proper spinal alignment. Additionally, you might want a small pillow or rolled-up towel under your waist.
Sleeping on your stomach can place a fairly substantial amount of stress on your spine. It's not recommended unless you can't fall asleep in any other position. When sleeping on your stomach, placing a flat pillow underneath your lower stomach/pelvis area can help raise your spine into the proper position. Additionally, you'll want to use a low, flat pillow for your head – or no pillow at all.
In all positions, you want your neck and ears aligned with your hips and lower back. That goes for your alignment when moving in bed, too. Move your body as one unit instead of twisting or bending at the waist. Bend your knees slightly, keep your stomach pulled in, and gently roll from one sleep position to another.
What Type of Mattress is Best for which Sleep Position?
No matter how you prefer sleeping, there's at least one mattress type you'll like:
Back Sleepers
As noted above, sleeping on your back puts the least amount of pressure on your body. That means back sleepers have the most mattress options. Choose whatever firmness level feels the most comfortable. A medium to firm innerspring or foam mattress keeps your back straighter, which can help eliminate a variety of discomfort in your back, legs, shoulders, and neck.
If you prefer the feeling of sinking into the bed, choose a softer foam or latex mattress. However, if you sleep on your back, and suffer from frequent back pain, you're likely sleeping on a mattress that's too soft. That doesn't rule out foam mattresses for every back sleeper, but it's an issue to be aware of.
Side Sleepers
Sleeping on your side places the most pressure on your hips and shoulders. While you want to place a pillow between your knees, as described above, you also want a soft to medium-firm mattress. If you don't weigh much, a softer mattress will likely feel the most comfortable; if you're on the heavier side, the extra support of a medium firmness level is often the best option.
Most side sleepers find great sleeping success with memory foam, latex, or hybrid mattresses. The combination of softness and targeted support helps keep the side sleeper's body well aligned throughout the night. However, if you're a warm sleeper, you'll probably prefer all-foam or latex over the hybrid.
Regardless, stay away from firm mattresses, especially firm innerspring. A firm mattress puts excessive pressure on your shoulders and hips, which can lead to soreness. Plus, it can also result in spinal curvature.
Stomach Sleepers
Stomach sleepers might feel like they can't catch a break. Not only is the position itself more likely to cause body pain, but mattress options can seem limited. Almost all stomach sleepers need a firm mattress to maintain proper alignment, and even then you'll need to place a pillow under your pelvis and possibly use no pillow at all for your head.
You're mainly trying to avoid creating an inverted curve to your spine. If you're on your stomach, and the mattress is too soft, you'll sink in too far, causing your spine to form a harsh U-shape, resulting in pain throughout your back and limbs. A firmer mattress helps keep your vertebrae in the correct position.
Other Issues to Consider
While sleep position plays an important role in determining the bed you should buy, you also want to take the following into account:
Your Partner's Preferences
Do you need a firm mattress for your back, but your partner prefers a softer sleeping surface? The best solution is a mattress that lets you customise each side, such as the Sleeping Duck Mach II or the Peacelily Mattress.
Additionally, you'll probably want a bed with excellent movement control, so you don't feel your partner moving around at night, and vice versa. Both the Emma Original Mattress and Ergoflex 5G Memory Foam Mattress excel in this area.
Your Weight
Heavier folks generally want a firmer mattress and might want to avoid hybrid mattresses entirely. Excess weight on the mattress can compress the top layer too far down, so the sleeper bypasses the top foam layer and rests mainly on the innerspring base. An all-foam or innerspring mattress is usually more comfortable.
On the other hand, lighter weight sleepers often prefer a mattress with a thick foam top. They'll sink in enough to benefit from the all-body support but will still feel the cushion of the top layer.
Allergies
Do you have allergies to dust mites, mould, and other household microbes? You'll want a memory foam or latex mattress. Latex provides the absolute best defence because it's naturally resistant to most allergens. Also, wrap your mattress in an allergen-resistant cover to contain any potential irritants. The Peacelily Mattress is one of our top hypoallergenic choices because it's made from all-natural, organic ingredients.
Final Thoughts
Confusion about what mattress to buy doesn't need to keep you up at night. Use our guide and recommendations above to help yourself get the best night's sleep you've ever had.
Remember to consider your sleeping position, preferred sleeping temperature, partner's needs, and other factors listed above. A bit of planning makes it easy to find the mattress you can sleep on comfortably for the next ten years or more.
Don't go through life feeling tired and sore. You deserve a great night's sleep, and a new mattress is the best way to get it!