This Noa mattress review will take a closer look at the Noa mattress and how those who have bought it feel about its firmness, sleep quality, material and overall feel. You can rest assured, the information in this review is based on objective data and how different customers feel about what it has to offer. Without further ado, let's explore its feel, perks and cons.

The Noa mattress feel
The Noa mattress is similar to the majority of other hybrid mattresses and offers better than average support. When you first lay down, you'll feel that you're sinking a bit. Though, you'll soon feel yourself bounce back thanks to the use of pocket springs and latex.

It's also not hard to get in and out of the bed or sitting on the side while you put on your shoes as it uses pocket spring coils.

A memory foam layer has been used below the latex to assist with the transfer of motion. Its pocket spring coils are also wrapped individually to reduce vibration and noise.
What are the Noa mattress perks?
In addition to its affordability, you can also rest assured as the customer service is really great. Thanks to the pocket spring coils, it also offers more edge support compared to other similar all-foam mattresses.

What are the Noa mattress cons?
It transfers more motion compared to an all-foam design. That being said, it's much better than a traditional spring design.

Which materials have been used in Noa?
The Noa mattress has three main layers. Though, these layers are ordered differently and are also made from other material.

The top layer is a natural latex foam. What makes it so great is that it's better for the environment than synthetic latex. This latex also doesn't contain any heavy metal, chlorinated phenols or pesticide. Not only is this latex good for the environment, but you'll benefit too as it's unlikely to cause allergic reactions and will ensure that you don't overheat.
Below this natural latex layer, you'll find a memory foam layer which has been infused with gel. What makes this layer so great is that it's not as responsive and will offer some relief from pressure by cushioning your body. Just like the latex, this gel will also make sure that heat doesn't accumulate.

The next layer is a thin transitional foam layer. Thanks to this layer, your body gets introduced to the pocket spring support more gradually.

The coils that have been used are wrapped individually to reduce noise and movement transfer. They also provide targeted support as the pocket springs are not as big as conventional spring coils.

A breathable Tencel fabric cover covers these different layers, while a more durable fabric has been used on the side to offer added protection against wear and tear. What makes this Tencel fabric so great is that it's smooth to touch making this mattress even more comfy. Plus, it's sustainable to manufacture!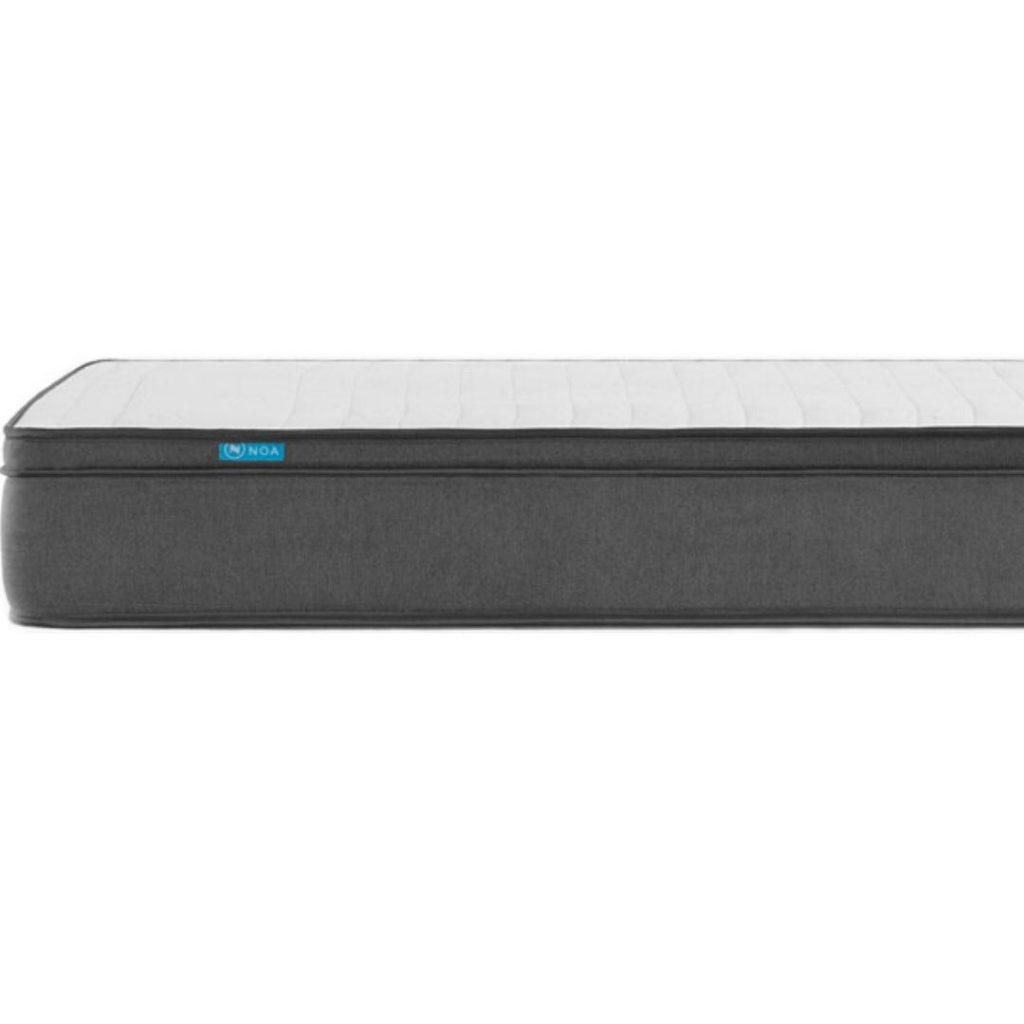 Noa mattress thickness and weight
You'll need to get someone to help you move this mattress (a queen-size Noa mattress weighs almost 50 kilograms). Be warned, the pocket springs make it heavier than an all-foam mattress.

The Noa mattress price
It's a bit more expensive than similar hybrid mattresses. You can still get a queen-sized mattress for less than $1000. So, it's not breaking the bank (or bed for that matter).

What's more, at the time of writing this review it ships free of charge to Australia, Singapore, Malaysia and Hong Kong.

Is the Noa mattress the right solution for you?
If can't seem to decide between a spring-design or foam-design mattress, the Noa mattress is the perfect solution, especially if you prefer a mattress that's not as soft as an all-foam design.

It's great for people who require more general support. If you like to sleep on your back, you'll find that the soft foam offers the needed relaxation, while the pocket springs make the soft foam stronger. If you prefer to sleep on your side, the individual pocket springs of the Noa will offer the required combination of softness and support. In short, it will reduce pressure placed on the shoulders and hips, yet prevent your body from sinking too deeply. Though, if you favour a more luxurious mattress that sinks a bit more, it will be too firm for your liking.

Overall, people who sleep on their back or side will find the Noa the most enjoyable. Those who sleep on their stomach (especially smaller customers) should rather opt for a mattress that is not as firm.

If you're feeling slightly hesitant as it's a relatively new mattress on the market, rest assured, it comes with a 100-day trial period and longer-than-average warranty of 15 years.