In just a few years, Emma has become one of the world's most popular mattress companies. Boasting cutting-edge technology initially developed in Germany, Emma has cut all the middlemen and distributors out of the equation to sell their revolutionary and environmentally friendly mattresses directly to their Australian customers from their company's easy-to-navigate website.
---
Emma Mattress Promo Code
Sleep Junkie has an exclusive 10% Emma Sleep promo code which will allow you to save some money when you buy via our link!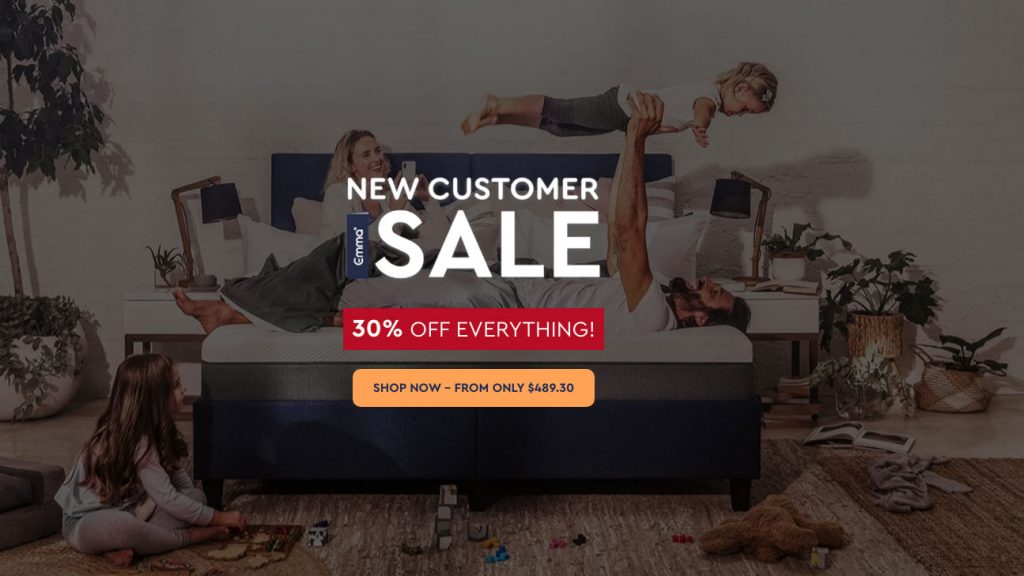 For the current month, you can use this exclusive Emma Sleep discount code to stack it with the current 30% sale for a huge saving.
---
Emma Sleep Mattress Review
In this Emma mattress review, we'll show you how this mattress can help you get the deep, restorative sleep you need on a product that's durable, breathable, and guaranteed to last for at least ten years. If you're just curious about the Emma mattress or are seriously considering buying one and want some more information, read on to learn more about this state-of-the-art mattress.
Cutting-Edge Technology to Give You A Good Night's Sleep
Emma has quickly made a name for itself as one of Australia's most popular foam mattress retailers. The Emma mattress is a durable and lightweight mattress designed to provide its users with a supportive surface that evenly distributes their body weight across the entire mattress area.
This mattress provides a noticeably firmer sleep and is rated as safe for most body types. The mattress is designed with a thick, handle-equipped cover that fits around a mattress with three distinct foam internal layers. Working in tandem, these foam internal layers provide full-body "seven-zone" support.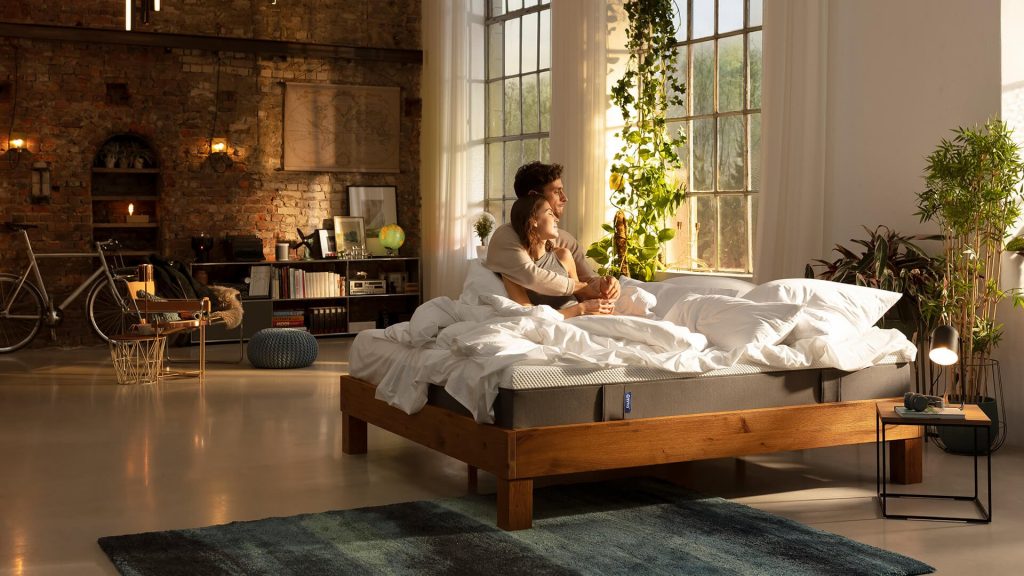 With its complex internal foam layers, Emma has designed a mattress that targets problem areas such as the shoulders, neck, hips, and lower back. The foam layers also work to provide gentle counter-pressure against the mattress's firmness, which means that your sleeping body will be gently and consistently supported throughout the night, regardless of your sleeping position.
Besides ergonomic concerns, the Emma mattress is also designed to provide maximum comfort through temperature regulation. The Emma mattress is designed to reject moisture while promoting air circulation during sleep. The result is a sleeping experience that is cool, dry, and undisturbed.

Emma Makes Australia's Lightest and Most Durable Mattress
By now, you can probably see why Emma mattress has earned a reputation as one of the best bed-in-a-box retailers in Australia. For this portion of our Emma mattress review, we're going to go a little deeper into what sleeping on this mattress actually feels like. The first thing you'll notice with this mattress is how light it is. The queen-sized Emma mattress weighs in at a super-light 29 kilograms, which is remarkable once you consider that a regular queen-sized mattress usually weighs 42 kilograms.
The lightweight of the mattress, coupled with the layer of elastic foam that makes up the base of the mattress, all works together to create a lightweight mattress and easy to move. One huge unexpected benefit of having such a light mattress is changing the sheets a breeze. The other benefit to the elastic foam base is that it adds a noticeable degree of stability to sleeping, meaning you can toss and turn and not have to worry about waking up your partner.
With its lightweight, and how its design actively works to minimize sleep disturbance, and its four handles, this is definitely a mattress that's been designed with practicality and ease-of-use in mind. The other notable feature of the Emma mattress is its removable and machine-washable cover. Your Emma mattress cover can be safely machine-washed every four weeks at a temperature of 60 degrees celsius.
For the genuinely hygiene-obsessed (such as my wife), the ability to wash the mattress cover so easily and so frequently is a huge plus. With its Class – 1 OEKO-TEX certification, the Emma mattress is free of harmful chemicals. While the Emma mattress is safe to use with electric blankets, it is not recommended for an electric or adjustable bed frame.
The Emma Mattress Is Available in Multiple Sizes
As I was writing this Emma mattress review, I loved sleeping on my Emma mattress because it provided a firm and regenerative sleep. Within just a few days, I noticed that I was sleeping better and waking up with far fewer aches and pains, especially around my lower back, which has always given me problems.
I was new to online mattress shopping, and I was pleased to find out that the Emma mattress was available in all five of the standard Australian mattress sizes: single, king single, double, queen, and king. We used a queen-sized Emma mattress for this review, which weighs 29 kilograms and measures 203 centimeters by 153 centimeters.
We've provided a link to Emma's handy sizing guidelines, or you can see those that I've provided later in this review, under the section titled "Emma Mattress Specifications." If you've still got questions about which mattress size is the right one for you, Emma's included several tips to help you make a final decision.
Order Online and Have Your Emma Mattress Delivered
As one of Australia's most popular online mattress retailers, Emma mattress has made ordering and receiving your mattress easy and stress-free. Emma ships its mattresses Australia-wide, with same-day delivery available for some metro areas of Sydney, Melbourne, Adelaide, and Brisbane. Outside of those metro areas, most deliveries are completed in one to three business days.
Once your mattress is out for delivery, you'll receive a text message that will contain a link allowing you to track your order. For customers in more isolated areas, you may be asked to pick up your mattress from a local warehouse facility closer to your address. Your mattress will arrive in a single box, and all you have to do is remove it from the box, place it on your bed frame, and cut open the plastic wrapping. The mattress will unroll itself and inflate as it takes in air, and it should be ready to use in minutes.
With a comprehensive manufacturer warranty and a no-questions-asked 100-day trial period, there's no downside to ordering one if you're still a little uncertain about using a mattress in a box. Best of all, all deliveries and returns are absolutely free, with no hidden charges.
Emma Mattress Review: Great Value at A Reasonable Price
Since it was first introduced to Australian consumers in 2020, the Emma mattress has proven to be a popular option, especially as more and more consumers look to the internet to purchase mattresses and similar durable goods for their homes. With its breathable top cover and its firm multi-layer construction, the Emma mattress has built a reputation as one of the best memory foam mattresses available in Australia.
While writing this Emma mattress review, we were impressed by how comfortable the Emma mattress was. Not only was it comfortable while providing excellent back support, but it was also cool, breathable, and surprisingly lightweight. The built-in handles made positioning our new mattress a breeze after it was delivered. The Emma mattress is a product that provides deep, restorative sleep without breaking the bank.
Emma Mattress Specifications
We've included this section for customers primarily concerned with weight, dimensions, and sizing for their Emma Mattress.
Environmental Certifications
The Emma mattress is Class 1 – OEKO-TEX certified. This means that the Emma mattress is free of chemicals and is safe for babies, toddlers, children, and adults. Products that have earned this certification are manufactured in an environmentally responsible way while consuming minimal resources.
Cover Layer Composition
Handles (4): 100% Polyester
Cover (Sides): 100% Polyester
Cover (Top): 99% Polyester/1% Elastane
Cover (Bottom): 87% Polyester/13% Polypropylene
Internal Mattress Composition
An Emma mattress is made of an eco-friendly cover around a mattress with three distinct layers that work together to provide a deep and restorative sleep that will heal aching muscles and boost your immune system.
The breathable cover is made of eco-friendly fibers that release moisture and adapt themselves to your body's shape. The cover is machine washable.
The second layer is a porous foam that promotes a cooler sleep and eliminates partner disturbance if you're sharing the bed with someone else.
The third layer is a higher-density foam that distributes your body weight evenly across the mattress. This layer is designed to protect your hips, back, and shoulders.
The fourth layer is an elastic foam that works to support your body regardless of your sleeping position safely.
The bottom cover promotes airflow and is equipped with handles and anti-slip construction for traction and added safety while moving the mattress.
Sizing
The Emma mattress is available in all five standard Australian mattress sizes: single, king single, double, queen, and king. All Emma mattresses measure 25 centimeters in height. You can find the exact dimensions for each size listed below.
Single
Measures 188 x 92 centimeters
Weighs 17kg
Sleeps one adult or one child
The standard option for children or individuals with smaller rooms
King Single
Measures 203 x 107 centimeters
Weighs 19kg
Sleeps one adult or one child
Slightly wider and slightly longer than a traditional single bed, this is a popular option for older children and teenagers
Double
Measures 188 x 138 centimeters
Weighs 26kg
Sleeps one or two adults
Designed to sleep two adults comfortably, a popular option for guest rooms
Queen
Measures 203 x 153 centimeters
Weighs 29kg
Sleeps two adults
Designed to sleep two adults with freedom of movement. The queen size mattress is the most popular size for Australians
King
Measures 203 x 183 centimeters
Weighs 35kg
Sleeps two adults
Designed to sleep two adults with freedom of movement, this is a popular option for master bedrooms
Frequently Asked Questions
While we think our Emma mattress review does a great job explaining everything that this revolutionary product has to offer, we know that you've probably still got a few questions. Please take a few minutes to read this FAQ list that we've put together; it covers the most common questions we hear from our customers.
If you still have questions, contact Emma here.
Is There A Trial Period Where I Can Return My Emma Mattress?
Emma offers a no-obligation, 100-day trial period on all of its mattresses. If you get the mattress and it doesn't work out, return it with no questions asked, and if you like it, you can keep it. If you end up returning your mattress for any reason, they will remove the mattress from your home and send it back at no charge, at which point you will receive a full refund with no return or restocking fees.   
Is There A Warranty with My Emma Mattress?  
No worries here, Emma offers a comprehensive ten-year warranty that covers any problem you can imagine. Emma's warranty protects against sags, dips, cracks, hollows, or damage to the cover or any internal layers. The warranty also covers customers if their Emma mattress doesn't inflate properly upon receipt. For more detailed information, here's a link to Emma's warranty page. 
If I Order An Emma Mattress, What Are My Delivery Options?
 All returns and deliveries are free. Emma delivers Australia-wide, completing most deliveries in one to three business days. Orders placed before 10 AM in certain parts of Adelaide, Brisbane, Melbourne, or Sydney qualify for same-day delivery. 
When an order is out for delivery, Emma will notify the customer via text message that their order is on its way, and they will be able to track their order as it gets closer. While Emma delivers Australia-wide, customers in more remote areas may be asked to pick up their mattresses from a warehouse near their address.    
Does Emma Mattress Offer Financing Options? 
Are There Any Other Online Mattress Retailers Comparable To Emma? 
In 2021, several online mattress retailers in Australia are operating with the same business model as Emma – get online, order your mattress, try it out, and if you don't like it, return it. These online mattress retailers offer memory foam mattresses, mattress-in-a-box mattresses that have been compressed at the factory, and regular spring mattresses. For an up-to-date round-up of all the online mattress retailers in Australia, check out this article about the best box mattress brands in Australia.   
I Have A Motorised or Adjustable Bed. Can I Sleep on An Emma Mattress?
No, it is not recommended to use an Emma mattress with an adjustable bed. Constantly raising or lowering the mattress can damage the foam internal layers.  
Can I Use An Electric Blanket with An Emma Mattress? 
Yes, it is safe to use an electric blanket with an Emma mattress.