If you're searching for an alternative to your conventional memory foam mattress, the Hugo mattress is a great choice. Made in Australia, this new mattress boasts four layers as opposed to the more traditional three.

This review will take a closer look at the Hugo mattress and how those who have bought it feel about its firmness, sleep quality, material and overall feel. You can rest assured, the information in this review is based on objective data and how different customers feel about what it has to offer. Without further ado, let's explore its feel, perks and cons.

The Hugo Mattress feel

What makes the Hugo mattress so great is that you can look forward to the same support that a memory foam mattress offers, yet it'll not feel that firm as transition foam and latex have been used. Though, if you're used to a spring mattress, it will feel firmer than what you're used to.

As latex has been used before the memory foam, stomach and side sleepers in particular will feel super comfortable. If you mainly sleep on your back, you might find that it's too soft for your liking. Also, as it's not as thick, you might miss the extra support layers and comfort.

What are the Hugo Mattressperks?

The Hugo mattress does a stellar job of reducing motion transfer. Even though it offers more bounce, your partner will still be able to continue sleeping soundly when you're tossing and turning more than usual.

What are the Hugo Mattress cons?

If you usually struggle to stand up when you're sitting on the bed's edge, the Hugo might not be the best bet. Though, the edge support that it does offer is better than other mattress made only from memory foam.

Also, its trial period is slightly shorter than average and in the event that you do want to return it, you might have to pay a fee for collection.

Which materials have been used in Hugo Mattress?

The Hugo mattress is comprised of latex and foam layers.

First you get a layer of latex which helps to alleviate pressure and make the mattress more comfy. What's more, it also adds more bounce that'll help with the edge support. As it's breathable, it'll ensure that you stay cool (and as it's antimicrobial it for sure boosts its coolness factor).

The memory foam comes only after the latex (this is quite unconventional). It gradually contours to ensure that there aren't any gaps to offer support where it's required. As it flattens when pressure is applied, you can look forward to a soft sleeping experience.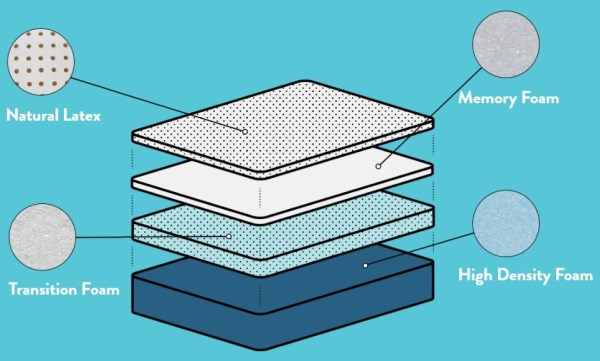 A transitional foam layer is found underneath the memory foam. This layer is many times not found in other memory foam mattresses. Though, thanks to this layer, your body won't have such a hard time to get used to the compact base layer. It also helps to distribute your weight.

Lastly, you get a very dense foam layer that acts as the base of the mattress. Thanks to its very solid feel, the Hugo mattress is hard-wearing and won't lose its shape.

For protection, it has a cover that's made from a blend of rayon and polyester that's used for the top, while a stronger polyester has been used to protect its sides from wear and tear. What makes this cover more unique than others is that the stretchy fabric that has been used for the top actually extends over its sides which means that the edges won't be uncomfortable.

Hugo Mattress thickness and weight

It measures 24,5 centimetres in height which is average compared to most all-foam mattresses. Luckily it's not that hard to unpack and move most of the sizes (for example a queen-sized Hugo weighs about 34 kilograms).

All the different sizes will be delivered compressed in a box which helps with navigation and transportation. It's best first to position the mattress before you remove the packaging.

During the first year, its position should be changed every three months.

The Hugo Mattress price
Compared to other similar mattresses, this brand is slightly cheaper than average. So, you'll be glad to know that you won't have to fork out thousands of dollars! Plus, free shipping across Australia is provided.
Is the Hugo mattress the right solution for you?
As it uses foam and latex to deliver the best firmness, it will cater to different sleeping styles. However, people who sleep on their side or stomach will like it best. There are many people who sleep on their back that likes the sleeping experience offered by the Hugo mattress, but not all back sleepers will like it as they might require a firmer surface.

If you're bigger, the Hugo mattress will not be the best fit as it will most likely not provide sufficient support irrespective of your sleeping style. The mattress isn't very thick which means that it doesn't boast extra support layers and comfort.
Overall, it doesn't offer the best value for money.