A Dreamy Escape After A Long Day: The Dusk&Dawn Signature Mattress Review
Introduction A blissful night's sleep is like a treasure at the end of a hectic day. We all know the feeling of eagerly anticipating bedtime right after tea. However, achieving that perfect slumber is more than just hitting the hay. The key lies in the mattress – and if it's not up to scratch, your sleep won't be either.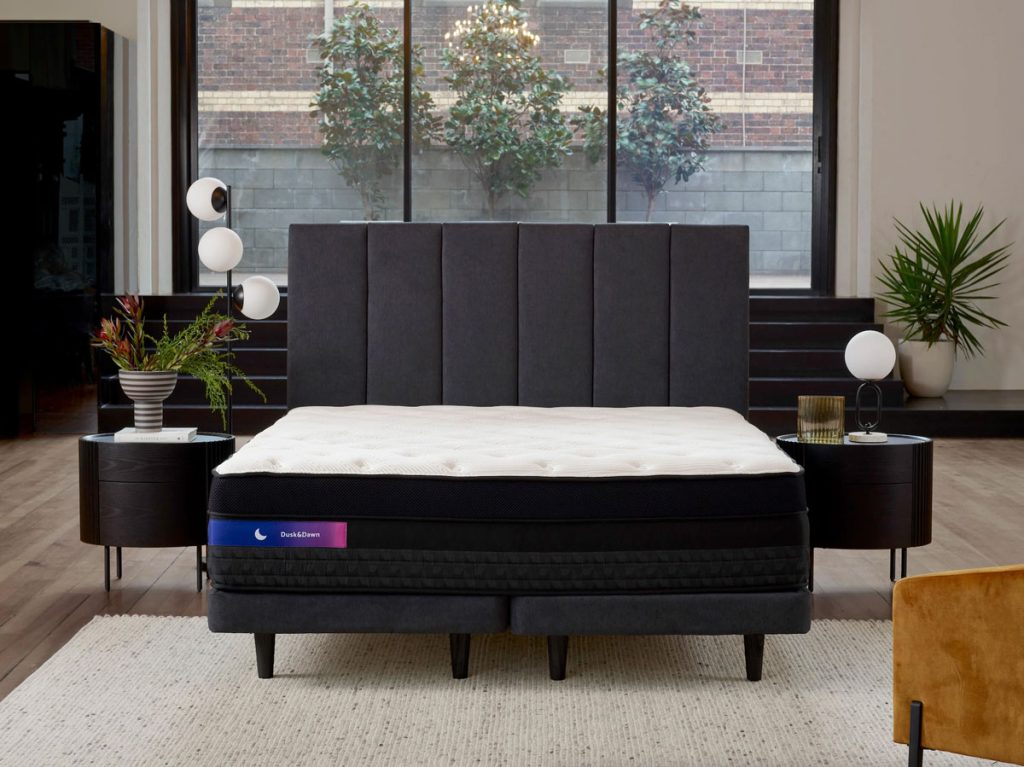 Our quest for a heavenly mattress brought us to the Dusk&Dawn Signature MK2 – a name not too familiar to us initially. But, swayed by its rave reviews, we took the plunge.
Dusk And Dawn Signature MK2: A Quick Overview
Before diving into the intricate details, let's have a peek at what this Aussie-made marvel offers:
ISO Coil 5 Zone Pocket Spring System
Comfort-stretch fabric
Eco air comfort technology
A variety of sizes and comfort levels
Benefits
100-day comfort guarantee
Australian-made, GECA-certified
Graphite memory foam technology
Wool and silk-blend for superb insulating properties
Drawbacks
Among the pricier options in Australia
Quite heavy
The Top 5 Standout Feature Of The Dusk&Dawn Signature Mattress
Cover Quality In our Dusk&Dawn mattress review, the first standout feature is the premium-quality cover. Crafted from an ultra-soft, comfort-stretch fabric, it's delightfully gentle to the touch and highly breathable. Complemented by a 3D mesh gusset, this design ensures maximum airflow, keeping the mattress cool and comfortable, particularly in Australia's warmer months. Aesthetically, the cover sports a classic white top and black sides, offering a luxurious and contemporary look that will complement any bedroom décor.
Silk Blend Quilt Layer Beneath the exquisite cover lies a plush silk blend quilt layer, a step up from the traditional wool-only layers. This unique blend combines the softness of silk with the natural thermo-regulating properties of locally sourced, certified Australian wool. This combination ensures that the mattress adapts to seasonal changes, keeping you snug in winter and cool during the summer nights. Additionally, this layer is treated with the advanced Virase textile cleaning technology, providing an antibacterial barrier for a cleaner, healthier sleep.
Eco Foam Layer The eco-foam layer is an integral part of the Dusk&Dawn mattress, designed to enhance breathability further. This innovative layer works tirelessly to maintain a cool surface, effectively regulating your body temperature throughout the night. It's a crucial feature for those seeking a mattress that responds to and manages body heat, ensuring uninterrupted and comfortable sleep.
Italian Graphite Memory Foam Layer A highlight in this Dusk&Dawn mattress review is the Italian Graphite Memory Foam Layer. This advanced layer incorporates natural graphite, known for its highly breathable and pressure-relieving qualities. The result is a foam that not only supports your body's unique contours but also maintains a hygienic sleep environment thanks to its antibacterial properties. Moreover, Dusk&Dawn commits to environmental responsibility by using only GECA certified comfort foams in this layer, ensuring eco-friendliness and safety.
Coil Spring Layers and Power Edge Support Finally, the mattress features a sophisticated mini coil spring layer, divided into five distinct support zones. These zones are engineered to provide targeted support to various body contours, enhancing the overall comfort and effectiveness of the mattress. Accompanying this is a layer of independent pocket springs that effectively isolate motion, ensuring that movements on one side of the bed don't disturb the other. The mattress's integrity and longevity are bolstered by the power edge support box, which encases the entire structure. This feature not only strengthens the mattress's base but also maximizes the usable sleeping surface by providing robust edge support.
Dusk&Dawn Sleeping Experience
This top-tier mattress balances support and comfort. Its pocket coil system contours to the body, targeting five zones for full support. The Graph-Tek technology infuses natural graphite in the memory foam for a breathable, antimicrobial sleep. Its eco-air technology is a boon for hot sleepers, ensuring optimal temperature regulation.
Dusk & Dawn Weight and Thickness
Available in various sizes and two comfort types: comfy medium (5-6 on firmness) and firm support (7-8). The sizes and respective weights are:
Single: 92 x 188 x 38 cm
King Single: 107 x 203 x 38 cm
Double: 137 x 188 x 38 cm – 58 kg
Queen: 153 x 203 x 38 cm – 60 kg
King: 183 x 203 x 38 cm – 65 kg
Care Tips
Use a mattress cover for cleanliness and airflow.
Regular cleaning, including vacuuming, is recommended.
Rotate the mattress occasionally.
Avoid jumping on it to maintain its integrity.
Ensure it rests on a flat, sturdy base.
The mattress's wool and silk blend is treated with Virase technology for antibacterial protection.
Dusk&Dawn Certifications
Australian-made, GECA-certified.
Eco-friendly materials with Global GreenTag certification.
Pricing The pricing varies based on size and comfort type, with free shipping in metro areas and a flat rate for regional areas. Here's a quick summary:
Single: $2,899 to $2,349 – check latest sale price here
King Single: $3,049 to $2,499 – check latest sale price here
Double: $3,149 to $2,599 – check latest sale price here
Queen: $3,449 to $2,899 – check latest sale price here
King: $3,849 to $3,299 – check latest sale price here
Final Thoughts To conclude, the Dusk&Dawn Signature mattress stands out as a luxurious and eco-conscious choice. It masterfully combines top-notch materials and innovative design for a restful, clean, and adaptable sleep experience. Whether you need a softer touch or firmer support, their 100-day comfort guarantee ensures you find your perfect fit.